Breathe through your nose while snorkeling. Good bye jaw discomfort (no uncomfortable mouthpiece to bite onto). Good bye difficult breathing and goodbye water in your snorkel thanks to our dry snorkel. For good. Huge field of vision and no more fogging thanks to our patented and independently tested air circulation technology.
Our FFSM line has a uniquely designed orinasal for optimal sealing around your nose. All our tests are counducted in water and with actual use in mind.
Our masks are not only designed in Italy, but are also Made in Italy.
Snorkeling re-invented.
NEW DESIGN, new strap and quick release system. This ensures greater comfort, safety and ease when putting on and taking off the mask. The quick release not only is easy to grasp, but also swivels to ensure a good hold from the comfortable elastic straps.
FULL VISUAL on the underwater world- The QR +  mask will revolutionize your snorkeling experience. You will be able to observe everything that happens around you underwater with a 180° panoramic view. Experienced snorkelers will appreciate the dark face seal which reduces incoming surface glare for a more enjoyable visual experience.
ACCESSORIES – QR+ comes with the Camera Support included. In EMEA the mask comes with a Made in Italy carry Bag reusable as Dry Bag and Snorkeling Signaling Buoy. In US the mask comes with a reusable carry bag with draining bottom. Aria is compatible with all accessories in the FFSM Ocean Reef line. Exclusives like Snorkie Talkie, Optical Lens' Kits and matching Duo fins all add to maximize comfort for an unforgettable experience.
2 YEARS WARRANTY
This mask is not intended for free diving although swimming submerged is possible at shallow depths.
FIND A DEALER BUY ONLINEPATENTED
Additional information
| | |
| --- | --- |
| Size | S/M – M/L – L/XL –> for sizing chart check out the learn more section. |
| Colors | Black face seal, blue frame and draining valve frame, black draining valve cover, anthracite straps with orange details. Black QR buckles, orange Camera Holder. Shiny and opaque finishings. Snorkel top in matching color as frame. |
| SKU | S/M OR019011 M/L OR019071 L/XL OR019021 |
| WARNING | For California Residents: this product can expose you to chemicals including BPA, which is known to the State of California to cause cancer, and Phtalates, which are known to the State of California to cause birth defects or other reproductive harm. For more information go to http://www.P65Warnings.ca.gov. |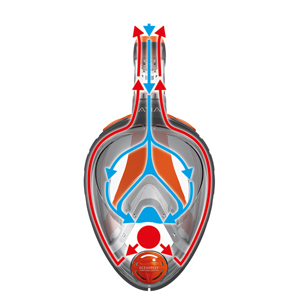 SNORKEL & BREATHE LIKE MOTHER NATURE TAUGHT US
Goodbye jaw discomfort, goodbye difficult breathing and goodbye water in your snorkel. For good. With ARIA you breathe through your nose, while the dry top prevents water from getting in the snorkel. Now your mouth is free to say: WOW!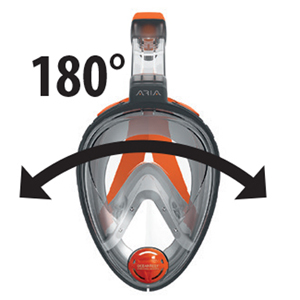 AUGMENTS YOUR FIELD OF VISION, THE MOST!
ARIA has the largest field of vision of any mask out there. To that we added light colors for the brightest experience ever.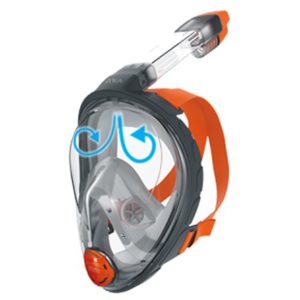 NO MORE FOGGING PROBLEMS
Goodbye defoggers, hassles and lost opportunities to see the fish of a lifetime. ARIA's breathing circulation inside the mask's frame guarantees no fogging and no extra stress. Just take it out and jump in.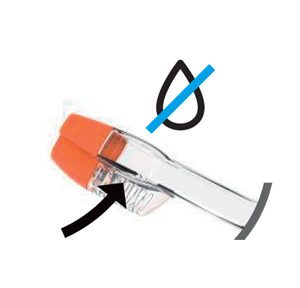 DRY TOP SNORKEL
No more water getting in your snorkel, you don't have to clear it if you go underwater, and no water gets in if there's surf, splash or such. Just breathe comfortably and enjoy the ride.

FIND YOUR CORRECT FIT.
Normally, by taking the measure from your nose bridge, to the bottom of your chin, you can size correctly the mask that works best for you.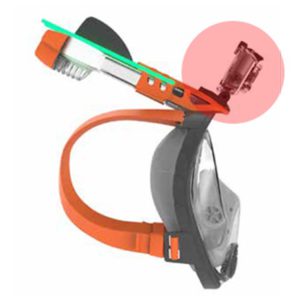 YOU CAN EVEN ATTACH A CAMERA TO YOUR ARIA
ARIA's also equipped with a dock for sport cameras – you can record and relive your experience any time you want. Just take it out and jump in.